Canada Best Colleges for Nursing Students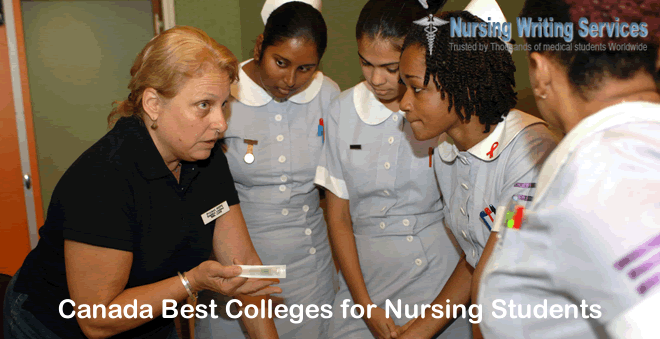 2. University of British Columbia (UBC)
UBC has an international reputation for its leading academic and research programs for students at all levels and is consistently in top 50 spots of world best universities. UBC School of Nursing takes an inter-professional approach offering training for various nursing and medicine disciplines on the same campus. It has one of the best informatics training. Bachelor program at UBC is very popular. Also, the university offers a variety of graduate programs including rare options that you are unlikely to find at other institutions such as Master of Health Leadership and Policy.
3. University of Alberta
The University of Alberta is the leading research and education institute in Edmonton Province, one of the top five in Canada and fourth best in the World University Rankings by QS. It is largely known for providing high-quality medicine, science, and engineering programs. It has well-funded programs combining excellent instructions, modern facilities, and world-renowned research. In addition to general classroom learning, nursing students at the University of Alberta get an opportunity for practicing their skills in a realistic environment. Some people are on the University's payroll to replicate patients. All training is not lab bases. Students get numerous placement opportunities.
4. McMaster University
McMaster University is one of the top 10 universities in Canada and the world. It regularly features in the 100 best universities in the global. McMaster has a reputation as a leading research institution. Since 1994, it has been offering nursing graduate, Master's and Ph.D. programs as well as diplomas. Students can choose a specialty field such as neonatal and primary healthcare.
McMaster is famous for pioneering a teaching philosophy called Problem-Based Learning. It involves a self-directed learning emphasizing on independent-learning interpersonal skills and leadership qualities. Nursing is team profession, and students benefit much from the method of teaching and this university. They learn in groups and get many chances for co-placements to prepare them for a workplace environment.
5. McGill University
McGill University is a center for teaching and research for thousands of bright students who it refines to valuable professionals. The University is the home to Ingram School of Nursing that has taught since 1920 and is one of the few nursing programs where first-year students have clinical studies. It offers undergraduate students an option to study overseas in the final year. It has a renowned Bachelor program and 5 graduate study programs. It has a program for everyone whether the person is starting a career or looking for an opportunity to pursue an additional degree. McGill works together with a network of teaching hospitals to provide all the students with modern learning facilities.
A four-year BScN degree is one of the oldest programs here. It has existed since 1942. In 2001, U of T began offering MSN Acute Care Nurse Practitioner program. Since 2007, the name of nursing faculty is known as Lawrence S. Bloomberg Faculty of Nursing. It offers these programs:
Bachelor of Science Nursing (BScN)
Master of Science in Nursing (MScN)
Post –Master Diploma
Collaborative Master-Doctoral
PhD
The faculty also offers BScN, Master, Post-Master Diploma, Collaborative Master-Doctoral, and Ph.D. programs.