Applying for Nursing Certification in Australia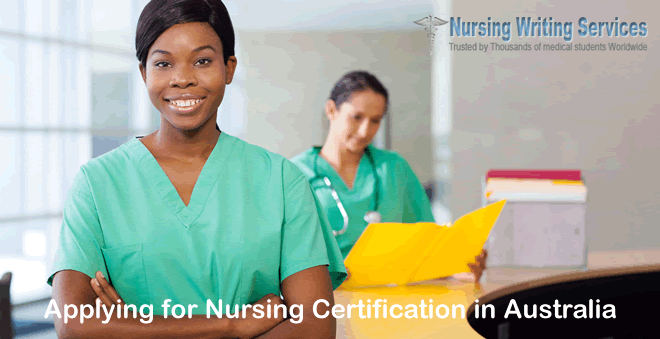 You become an enrolled nurse by completing a Diploma in nursing. You can also take a certificate IV in nursing, but due to rising standards of education, most people start at diploma level and even go further to enroll in a degree program. Vocational or Technical and Further Education (TAFE) institutions offer diploma and certificate training depending on the state or territory.
NMBA offers these types of registration for nurses:
General registration
Limited registration
Non-practicing registration
Student registration
Provision registration
From 1st July 2015, nurses start the registration process with NMBA after meeting the following certification standards.
Criminal Record
A nurse/midwife applying for registration by NMBA should declare a criminal is Australia and any other country that the applicant may have lived
The Australian Health Practitioner Regulation Agency (AHPRA) checks the criminal history of the applicant during the registration procedure to make sure that it is only those who it deems suitable and safe to go through the registration process. All the candidates must provide the following information to NMBA:
Any charges for punishable by an imprisonment of 12 or more months
Conviction for an offense that is punishable by imprisonment either in Australia or overseas
When a registered nurse is renewing their registration, NMBA requires them to provide information about any changes to the criminal history.
English Language Skills Registration Standard
All nurses applying for initial registration must pass this certification standard whether they undertook their studies in Australia or another country. It requires applicants to provide evidence of their ability to communicate in the English language.
Continuing Professional Development
The information about continuing professional development shows the way nurses maintain and broaden their knowledge, competence, and expertise. It also demonstrates the development of professional and personal qualities that students require for practice throughout the professional lives.
Recency of Practice
Recency of practice is the information showing how a nurse has been maintaining an adequate connection with the recent nursing practices since their qualification or after getting registration.
Professional Indemnity Insurance Arrangements
The Australian National law prohibits nurses from practicing in their profession unless that has appropriate professional Indemnity Insurance arrangements simply called PII about their area of practice.PII means an agreement that secures protection against any civil liability that nursing staff can incur if someone sues them for loss caused by negligence, mistake or omission by the nurse.
The requirement for nurses and other health practitioners to have an appropriate PII is an essential part of the way. National scheme protects the general public by addressing the risk that uninsured practitioners can pose.
Registration for Internationally Qualified Nurses
If you completed your nursing training program in a non-Australian institution, but you have the interest to work in the country's health care facility, you should have academic qualifications equal to those that NMBA requires registering nurses. It means you must have a Bachelor of Science or a diploma in nursing from an institution recognized by NMBA. You also need to apply for Visa from Australian Immigration Department if you do not have one. Visa and nursing registration are two separate processes, when you succeed in one of them, it does not automatically guarantee success for the other.
After getting a nursing certification, there are numerous job opportunities for nurses. Australia has a critical shortage of nurses as it has a high number of older adults. Life expectancy is 81 years, and the number of nurses is insufficient to take care of this aged population.
Buy Nursing Custom Paper Online
Our specialized Nursing Papers writers can help you with your paper today. 100% written from scratch