Common Types of Nursing Jobs in Canada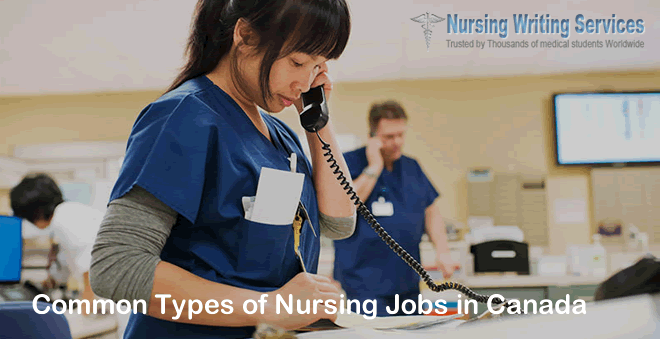 Nurse Practitioner (NP)
An NP holds an advanced diploma or a Master's degree in nursing. All territories and provinces in Canada require RNs to first register with a regulatory body before practicing.
Licensed Practical Nurses (LPN) and Registered Practical Nurses (RPN)
LPNs and RPNs reach this designation after earning a two-year practical nursing diploma from accredited colleges. They should also pass a national licensing examination to get registration before starting a career in healthcare.
Are you a nursing student looking for the Best Nursing Writing Services? Look no further! Our expert writers can help you with all your nursing assignment today.
Nursing specialties in Canada
The most common nursing jobs in Canada are:
Clinical Study Observer (Interviewer) Nurse
A clinical study or a trial nurse provides care to participants in clinical trials. It is the work of a clinical nurse to obtain consent from the participants and ensure that the procedure is safe and accurate. These nurses work in settings where medical carry out research and study procedures. These include clinical centers, colleges, and hospitals.
Intensive Care Nursing
A nurse working in an ICU takes care of the critically ill patients or those with serious injuries admitted to hospitals. They are life savers in demanding career that sometimes requires them to work on weekends or late at night.
Educator Nursing
Educator nurses teach new healthcare techniques and procedures to others. They work at hospitals, schools or travel to visit small communities.
Geriatric nursing
Geriatric nurses sometimes referred to as a retirement nurses, are professionals take care of the aged Canadians as they require more health care. A geriatric nurse has unique qualifications to deal with the medical and emotional challenges by the elderly.
Mental health, psychiatry and addictions nursing
Canadian Mental Health Association statistics show that 20% of the Canadians personally experience a particular mental illness during their lifetime. Drinking, drug and gambling are common addictions in the society. Nurses trained in mental health, substance abuse and psychiatry matters provide support to patients at clinics, hospitals, schools or other institutions.
Nurse Midwife
Nurse midwives attend to mothers during childbirth providing them with the necessary healthcare assistance to the mom and newborn. A nurse midwife serves patients at healthcare facilities and during home births.
Occupational Health Nursing
Occupational health nurses run healthcare programs at workplaces. These are the nurse you will meet when you apply for a job or taking a pre-placemen medical. A professional occupational nurse also runs healthcare programs at workplaces.
Palliative Care Nursing
Palliative care nurses help patients in their final stages or life to have a more comfortable time as they endure terminal medical conditions. Their work is providing care that lessens the suffering and improves the quality of life for patients in their final days of life.
Oncology Nursing
Oncology nurses attend to patients receiving treatment for cancer through every step of the process. It is the reason some people refer to them as cancer nurses. This discipline involves looking after the health of patients as they manage the condition.
Nurse practitioners
Nurse practitioners provide a comprehensive assessment to patients to diagnose disease, disorders or conditions. They also initiate treatment in the form of prescribed medications, healthcare management, and therapeutic intervention.
If your interest is in one of the above nursing disciplines, you should be clear-headed, organized and committed. Nursing involves working in shifts sometimes at odd schedules even at night or weekends. However, the days of balance the hectic schedule.