Entry Job duties for RNs in the US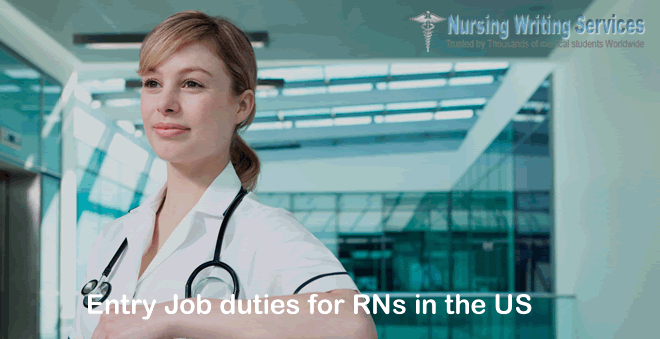 Direct care
An entry level nurse providing direct care spends the most time with the patients. Their more experienced colleagues have more responsibilities such as supervising shifts or working closely with the doctors to develop treatment plans for patients under their care. When providing the direct care, you will assess patient needs by taking their history when they arrive at the hospital or doctor's office. They take the vital signs before preparing a chart for the nurse practitioner who diagnoses the patient or the doctor who will do the treatment.
At the hospital, you will be making rounds in the wards checking on patients and provide the care they need including changing dressings for those with wounds or give medication.
Basic care
When you have basic technical competency skills, you can serve in various job positions such as at a community clinic or a member of disaster relief team. The necessary skills include:
Providing basic first aid care
CPR
Giving injections and immunizations
Oxygen administration
Initial wound care
At times, you are going to get help from a CNA but always prepare for roles such as cleaning, bathing and helping patients with their mobility without relying on assistance from anybody. You should know how to insert a gastric feeding tube or a catheter. Discharge The role of entry-level nurses is to conduct the discharge procedure from a hospital stay. It is your work to explain the doctor's instructions to the patients and members of their families. You will also provide necessary information for follow-up treatment. Also, you will fill the relevant paperwork for release and make arrangements for transport up to the door. Entry level nurses working in an office or an assisted living facility will offer case management and education to the patient or if necessary to their patients.
Home care
Some people enroll in nursing programs as they expect rosy job offers. As time progresses, finding an entry level is becoming harder as hospitals HR departments are now looking for nurses with a four-year degree or experience of several years more than ever. When you are starting out, you can begin by taking a practical career route of providing home care.
There are numerous job openings to provide home care as the number of the seniors continues to increase and naturally many of them require specialized care due to age-related medical conditions. Entry level nurses working in a home care environment provides assessment, take vital signs and give direct patient care. It is an area of practice with flexible working schedules leaving you with time for attending classes to advance your education or participate in other activities.
If you have no previous experience in nursing but want to start practicing quick as possible, this is the quickest route as you do not have to complete the four-year university program.
A diploma or an associate degree will cost you less making it ideal for students with financial challenges. You may start at entry level position and proceed to advance your nursing education after saving enough to cater for your tuition. The program training can be full or part time for students to choose the schedule that is convenient for their preference.