Most Popular MSN Programs Specializations in Australia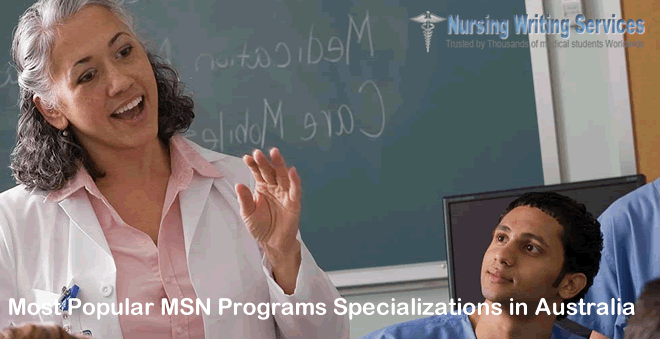 Master of Applied Management (Nursing)
This MSN program by The University of Newcastle provides students with skills to be industry leaders by blending their clinical experience with business disciplines such as business analysis, human resources development, financial and business management to increase your capacity for leading organizational change. The training you receive broadens understanding for leadership, the meaning of building, nurturing and motivating your team. At graduation time, you will have qualifications for advancing to nurse consultant, clinical nurse specialist and nurse manager roles that come with more career choices and earning capacity. The invention of advanced online learning programs provides flexibility and support for studying anywhere, anytime balancing your work, study and life.
Master of Nursing (Nurse Practitioner)
An MSN (Nurse Practitioner) expands skills and knowledge combined with an extensive clinical training. It broadens career opportunities that provide a chance to apply your acquired skills and experience in the following:
Individual assessment
Planning implementation
Diagnosis
Patient care evaluation
nursing practitioner training enables you to delve into the core knowledge areas like health research, biophysical processes clinical management and leadership.
Upon graduation, you can explore various career opportunities. It brings the flexibility for exploring specialized fields such as mental, aged care, infection, control, neonatal intensive care and palliative care. It also prepares you with knowledge for taking on more challenging and dynamic positions to work as a specialist or a primary healthcare NP practitioner in urban or rural Australia.
Master of Midwifery Studies
This Master's program is for registered midwives with a Bachelor's degree or a graduate diploma in midwifery. Students get a solid foundation on theory and practical applications of midwifery at a higher level with extensive knowledge in a certain specialized area. When you specialize in midwifery qualifications, it raises your career options to management or consultancy positions. You can work in areas such as:
Clinical assessment
Newborns special care
Neonatal intensive care
Epidemiology and therapy engagement
A highly qualified midwife can serve as a part of multi-disciplinary teams providing expert advice and education ob health matters to the women, families or community. You can also supervise care for women and their papers as well as administer medications.
Master of Mental Health Nursing
When you train to be a mental health nurse and acquire a Master's degree prepares you to support people suffering from various mental health disorders or emotional distress in their recovery.
A master's program provides you with latest theoretical information and research in contemporary nursing and clinical practice on mental health. It also increases your knowledge in the major nursing and health practices. At the end of training, you can apply to Australian College of Mental Health Nurses for accreditation.
A master's program in mental health prepares you to undertake these pivotal services for mental health:
Identify goals for patients and the necessary intervention to facilitate their achievement
Assess the mental health status
provide support and information to the patients/patient families
Contribute to the recovery plans
Provide therapies, education, and counseling,
Master of Nursing
An MNSG program suits Registered Nurses (RN) intending to upgrade their qualifications or qualify for leadership roles in the healthcare sector. It boosts skills in leadership and a strategic management within the current nursing practice. It increases your options for research opportunities that you can align together with elective courses to fit your career ambitions. This program increases your nursing and general care knowledge. You can specialize in areas such as women, natural, mental or general health.
After completing your MNSG program, you can focus on different areas including:
Nurse leadership
Clinical nurse specialist
Acute care nursing
Nurse administration
Midwifery
Everyone prefers a career progress to working in the same position for all years. Acquitting an MSN degree hastens your career progression.