Is a diploma in nursing still relevant in the US?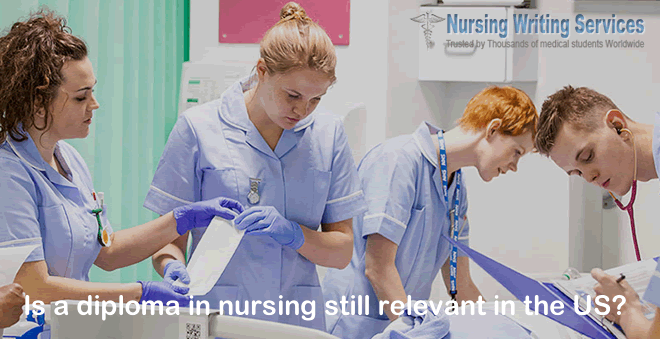 Difference between nursing diploma and BSN
The main difference is not just about the respective providers of the programs.The difference is the academic level for students to complete their studies. Level 4 Diploma students complete 72 credits, and at level 5 they complete 168 credits. Degree students study at level 4 in the first year completing 120 credits. They study at level 5 in the second year and move to level 6 in the thirds year earning 120 credits for each. Both programs take 3 years. The level of theory is 50 percent and 50 % practice for both but a degree course in more intensive. The entry qualifications for a degree are also higher.
Advantages of a degree over a diploma in nursing
More requirements for higher education are favoring degree in nursing holders as their academic credentials enable them to access wider range jobs. They are also eligible for openings to continue their education by enrolling for Masters, Nurses Practitioner or Ph.D. degree level. Many states and health facilities still keeping doors open for diploma and degree holders but the truth is that most hospitals prefer hiring BSN holders. I most instances, they do not find enough, but the number of those with a diploma and ADN degrees is lower as it only fills the vacancies that BSN holders did not occupy. It seems the trend is to hire degreed nurses as Lawmakers in some states such as New York introduced bills requiring that some hospital staff nurses must have a bachelor's degree within ten years although no bill has become law yet.
Will hospitals do away with diploma holders?
It is highly unlikely for employers to sack diploma nurses, but it will be more difficult for diploma and ADN holders to get a job. If the suggestion that 80% of the nurses should have at least a BSN by 2020 holds, it means they will be fighting for only 20%. The hope of this mandate is to encourage students to enroll for BSN programs as well as new nurses within a short time of fewer than 5 years after graduating. Licensed nurses at diploma or degree level usually start off as a staff nurse and entry positions. Some hospitals take both diploma and degree holders through an internship program to train them on working in critical areas such as critical care, operating or emergency room. It will be impractical to use their resources in such internship programs and do away with nurses who have diplomas or AND degrees for BSN.
In recent past, most nurses got their training at nursing schools run by specific hospitals and they did not confer degrees. In the past century, half of the registered nurse in the US began in this way. Some of them are still in service although a Bachelor's program has set a higher bar. Many of the working nurses from that generation and those who went to community nurses that were the norm after the closing of hospital-based schools in high numbers have family obligations that prevent some of them from enrolling for BSN programs, yet they have much experience e that hospitals cannot wish away. Having a policy for only degree nurses will be difficult.
Conclusion
Depending on location and competition in each state, some health facilities can afford to hire a minimum of BSN holder, but others will have no option but to hire nurses with diplomas and ADN degrees. It is better to enroll for a BSN so as to be marketable in coming years.