Requirements for immigrant nurses to get licensure in the US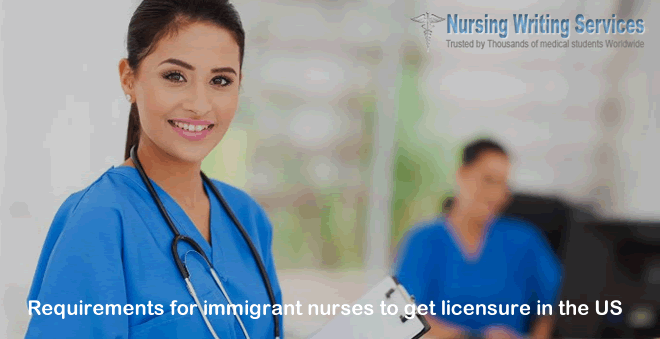 Eligibility requirements
Registered Nurse (RN) is the only category first level of nursing profession in the US. An RN is equivalent to Registered General Nurse (RGN) qualification in the UK. An RGN is, therefore, eligible to apply for a nursing role in the US. Every state has a board regulating nursing and regulations for practice eligibility for local and foreign-trained nurses. If you are applying to different states, expect different requirements. Some of them are requirements apply across states. For starters, all states except Florida and New York require you to pass theses exams before the board considers you for licensure.
CGFNS exam
It is an exam by Commission on Graduates of Foreign Nursing Schools (CGFNS). It is an internationally recognized authority in Philadelphia that evaluates and verifies credentials concerning education, licensure, and registration of healthcare professions including nurses across the globe.
Check why we stand out the best nursing writing services providers.
It is for the first-level general nurses who got their education and license outside the US to assess their chances of passing the next exam, NCLEX-RN the US RN licensing examination that allows someone to earn licensure as an RN within the US. Second level nurses are not eligible for CGFNS exam or licensure to work as RNs. Nurse assistant, vocation, practical and enrolled nurses are in the category of a second-level nurse. This exam comprises of these three elements:
Credentials review
One day qualifying exam of nursing knowledge
English language proficiency exam
After completing all the program elements, an applicant gets a CGFNS certificate.
CGFNS issues the exam three times a year and processes all applications in its Philadelphia headquarters. The exam requires applicants to provide evidence showing they completed their theory and clinical education in medicine, pediatrics, surgery, psychiatry and obstetrics in the nurse education and three of more GCSEs. CGFNS might require those who did not cover some of these subjects to study them before sitting for the exam.
NCLEX-RN Exam
After passing a CGFNS, National Council Licensure Examination-Registered Nurse (NCLEX-RN) is the next exam. It is an essential qualification for anyone intending to work in any state in the USA. No one practices without this qualification. Since the computerization of NCLEX-RN exams, you can sit for them at any time of the year. You can make arrangements to do your test at one of the test centers in a state and even require for that your results be sent to another state where you want to practice. That state will issue a certificate to practice if you meet the requirements. It is important to check for application deadlines with individual state boards before you make such a request.
If you pass an NCLEX-RN exam, you can begin the visa application process whether you are seeking recruitment via an agency or directly from an employer. A US employer will make the Visa application on your behalf.
Requirements to acquire a work visa
A work Visa is a final hurdle for you to clear to start your nursing practice as an authorized immigrant. The professional criteria are for you to pass your CGFNS exam and NCLEX-RN for the chosen state. To qualify for a visa, some applicants join a recruitment agency that sponsors their trip to the USA for you to sit the exam. Usually, the agency would have head-hunted them for credentials, knowledge, and skills matching requirements for a particular position.
Nursing employment will include a health insurance, holiday and other benefits.
Buy Nursing Custom Paper Online
Our specialized Nursing Papers writers can help you with your paper today. 100% written from scratch