Average Nursing Salaries in Canada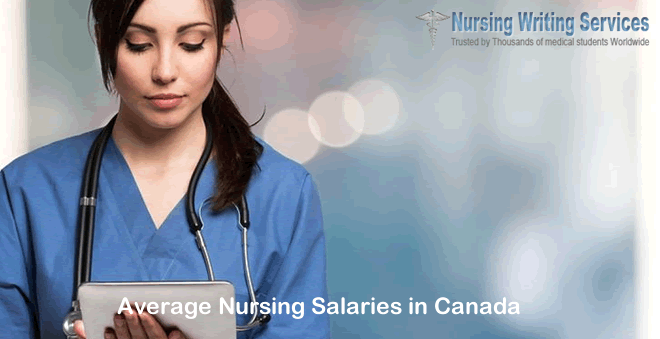 The specialty by a nurse also contributes to the amount that he or she makes per hour and annually. New graduate nurses in acute care departments earn $30 per hour and $58, 831 annual salaries. A nurse who holds a Master's or Doctorate in Advanced practice gets a higher salary. Nurses who work overtime get one and a half times more pay that an hourly rate.
Some part-time nurses in Montreal earn over $100,000 in a year through overtime payments and bonuses something that raises questions about workloads, hospital spending, and staffing priorities. The base salary of a nurse might be around $70,000 but earn $155,000 in overtime. Additionally, they also earn over $80,000 in benefits and bonuses.
Some healthcare workers' unions claim that for a nurse to make such a high amount in overtimes, it means working for very long shifts. Their concern is that the nurses will be too fatigued by the long work hours and compromise on patient care.
Are you a nursing student looking for the best nursing coursework writing services? Look no further! Our expert writers can help you with your coursework assignment today.
Nursing salary in remote regions
Nursing pay may be higher in some remote regions, and it includes allowances for serving in such regions. For instance, nurses working in Nunavut earn a median base salary ranging between $81,000 and $121. Also, they get a northern allowance of up to 34,500, $19, 500 annual special allowances, signing and a monthly retention bonus. Some remote regions issue payments to help nurses cater for different professional developments including education cost.
Nurses who offer acute care get a higher pay than average registered nurses. New graduates get $30 hourly wage and $58,831 for an annual salary. Those with experience of five years in acute care get $36 hourly wage and an annual salary of $70, 434. Acute care nurses who have been in practice for 25 or more years get a median salary of $85,039 annually and $44 per hour.
How do employers decide payments?
Employers base nursing pay on several factors including whether an organization is unionized or not. Many nurses working at hospitals get a salary within a grid that Hospital Central Collective Agreement negotiates. This agreement covers about 50,000 nurses. Non-unionized hospitals and the other sectors usually will negotiate with employees as individuals or as a group.
Salaries in a clinical setting do not vary widely between hospitals. The significance difference occurs when a nurse advances education and gains more experience to qualify for a senior management position in an organization or goes into teaching. Pay for nurses who move to this position increases dramatically.
Nurses who work overtime can add their salary by up to 20 percent or even more. Canadian Federation of Nurses Union figures shows that over 18% of hospital nurses work for paid overtime doing around seven hours per week. A nurse who works at this average for five years will get an additional $13,711 to their salary.
Canada like other countries experiences a shortage of nurses. This is despite the increasing number of older Canadians and retirement by seasoned nurses. The demand for RNs in future will be higher, and the pay will be better. Currently, nursing is one of the top 20 best jobs in Canada.
Buy Nursing Custom Paper Online
Our specialized Nursing Papers writers can help you with your paper today. 100% written from scratch