Sacrifices to Make For Successful Nursing Career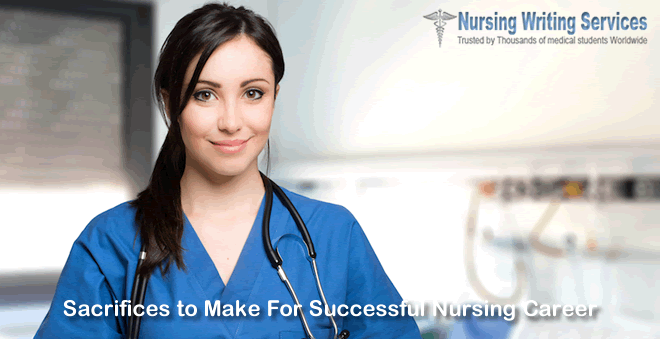 The reality is that nursing has a bright future due to the high demand for caregivers. It is however not very simple to get a nursing job without much dedication, persistence, and sacrifice. The recession is a reality in many countries making employers slow down their hiring thus increasing competition for the fewer places on offer to newly graduated nurses.
A degree is an essential requirement but not always enough to get you dream nursing job right after school. If you want to find your dream job fast, it is important for you to compromise or give up the things below.
---
Landing the First Job Instantly
It is harmless to have aspirations, constantly striving for better and bigger thing but you should know that it is hard for you to land the best nursing job soon after graduation. You should engage in activities that market your ability. You may for instance volunteer to work part or full-time at the local hospital and propose an innovative way to revolutionize patient care.
Pursue opportunities that enable you to gain practical skills that will help you to prove your ability. The experience you gain as a volunteer or low cadre job will make you a prime candidate when your dream job is open. Always work hard in you first role including an internship. It is the right way to develop valuable skills set that market you to nurse managers and employers.
High Salaries
Money is important but not everything. Depending on your education, place, and specialty, some of your classmates will earn more and other considerable less than the expectations considering factors such the cost of living. When entering a nursing school and searching for your first job, do not have an attitude that you have Florence Nightingale status. More people are now joining nursing than before meaning that a degree is no longer valuable than before.
It is essential for you to take the first opportunity that comes your way and work your career up towards a position that will pay a big salary when already in the healthcare system. If you get a job with enough salary to cover your bills, take it. The professional skills and experience you gain will come in handy later in life when you become qualified for big paychecks.
High Status
You may have a high status in your nursing college as a student leader or the best performer in class but it will not give much head start when you begin your job search. There are thousands of new graduates competing for a specific number of nursing jobs. Each may attract tens or even hundreds of qualified applicants with some surpassing the required skills because mass layoffs leave them with little option except to apply for entry level positions. The nursing profession does not owe anything for your position in a nursing school. Remember that you are not competing with your classmates alone. You competition include graduate from other schools and market factors such as a recession.
Forget your earlier status and feeling of entitlement as it will be hard to start out in charge. You can start as a nursing student on rotation but it is not a permanent position. After one or two years you will become a professional with glamour to start ascending the career ladder and reach your target status.
Free Time
Nursing is a 24-hour affair even on weekends and nights. As a new graduate, prepare to start off at entry level position that requires you to work long hours and be on call even after shifts. You will only have few off days and 5-10 vacation days all year. It is important to reduce your engagements for hanging out with friends, fun activities and running errands. It is wise to use your odd days to get enough rest before another grueling shift.
The good thing about nursing is that after hard word and sacrifice, it will reach a time when you qualify for a well-paying position with a flexible working schedule.