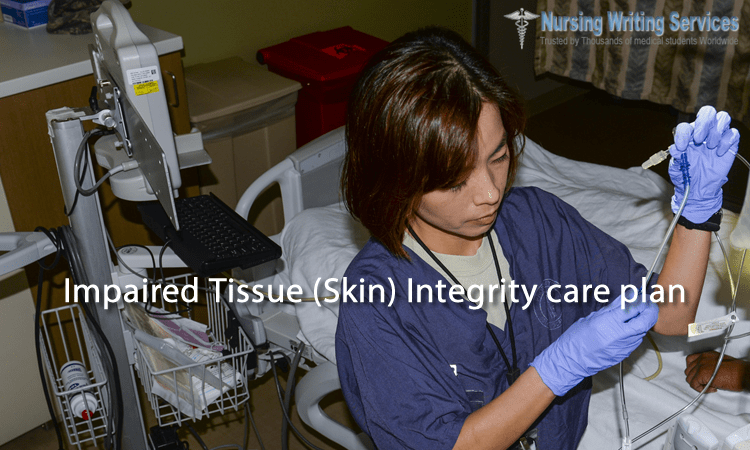 Impaired tissue integrity occurs when a person suffers damage to the mucous membrane. The damage may also occur to corneal, subcutaneous or integumentary tissue. Impaired Tissue (Skin) Integrity care plan is an essential document to the nursing and health care team to enable monitoring of the patient condition. It eases the team's operations to seek Impaired Tissue (Skin) Integrity care plan writing help for a clear and updatable nursing care plan for their patients. It helps nurses to follow consistently the patients record of diagnosis.
The skin and these other tissues are a physical barrier to prevent penetration of external threats and harmful substances. However circumstances such as injury, physical trauma, chemical injury or radiation. Some parts can repair themselves after injury, but others do not. This is the stage known as impairment.
Impaired Tissue (Skin) Integrity care plan Diagnosis
A care plan for impaired tissue integrity should anticipate evaluation for these signs and symptoms:
Tenderness and heat on the affected area
Damage and destruction to the affected tissue(cornea, integumentary subcutaneous, cornea)
Localized pain
Tendency by the person to protect the area
Impaired Tissue (Skin) Integrity care plan Goals and outcomes
A care plan for impaired tissue integrity should provide a roadmap to for the nurse to assist the patient in reaching the following:
Decrease in size of the wound and increased granulation
Absence of irritation, redness on the tissue
Absence of skin breaks down
Healing of the wound
Patient starts feeling pain or altered sensation at the site of tissue impairment
The patient can give suggestions on the right measures for protecting and healing the tissue. This includes wound care
Impaired Tissue (Skin) Integrity care plan Assessment
Assessment is necessary for the caregiver to recognize possible causes of impaired tissue integrity and identify the likely procedures that could transpire during the nursing care.
These steps will help a caregiver in p assessing the patient's state.
Assess integrity and condition of the impaired tissue: Swellings, pain, itching, and redness indicates an inflammation and response of the immune system to tissue trauma
Determine type (etiology) of tissue damage e,g chronic wound, pressure ulcer, burn or dermatological lesion), etc: This initial assessment is essential in proper identification of the right nursing interventions.
Assess the appearance of the wound, drainage, and odor: It provides information on the extent of the injury, an infection characterized by odor and pus discharge although exudation is a sign of normal inflammation.
Signs of itching and scratching: Scratching due to extreme itching can open skin lesion and increase the risk of infection
Assess nutritional status of the patient by referring to a nutritionist: Inadequate nutritional intake increases the risk of skin breakdown and also compromises healing.
Strategize to debridement if there is necrotic tissue: Necrotic tissue prevent healing hence the need to eliminate it
Assess body temperature specifically a sharp increase: Fever manifests systematically due to inflammation or infection.
Classify pressure ulcers in stages: Classifying wounds in stages help to classify e if the impaired skin integrity to the underlying tissues and supporting structures such as joint capsules, tendons, etc.
Impaired Tissue (Skin) Integrity care plan Interventions
A nurse care plan for impaired tissue skin integrity completes with therapeutic interventions to assist in healing. A caregiver should intervene in these ways;
Monitor the impaired tissue integrity at lease daily: Frequent inspection of color, swelling, pain and other infection helps in early identification of problems and prepare the best-individualized plan.
Develop a sterile dressing technique: A good dressing technique helps to reduce chances of infection. A caregiver should think of changes in dressing method if necessary as attending to extensive or profound cuts might become painful.
Administer antibiotics on prescription: Physicians manage wounds with efficiently with topical agents and may also combine with intravenous antibiotics.
Implement incontinence management plan for incontinent patients (those with insufficient voluntary control of the bladder and bowel movement): It helps to prevent exposure of the skin to chemicals in urine and stool because they can strip or erode it.
Educate the patient on hydration, proper nutrition and other methods of maintaining tissue integrity: It instills proper knowledge to the patient about the condition of the impairment and prevention of further injury
Teach the patient and family of wound care: Accurate information helps the patients and those who live with them to independently manage therapy and reduce rush infection. It is also essentials to teach them how to identify signs of infections or complications. Earlier assessment and intervention will help to prevent the occurrence of serious problems.
If there are signs of tissue breakdown, a caregiver should notify a wound care specialist or a physician. When the patient has been under medication, the care plan should match physicians as instructions or standard hospital procedure.
Impaired Tissue (Skin) Integrity Care Plan Writing Help
Coming up with a clear nursing care plan may be a bit challenging for the nurse on duty. For this reason, most of the nurses seek Impaired Tissue (Skin) Integrity Care Plan writing help online for a good and detailed care plan. We offer exclusive Nursing Care Plans Writing Services to nurses and nursing students at affordable rates. Our Nursing care plans are original, structural and well-written to provide an easy guide to assessment and treatment for patients. Hire our competent writers for an affordable Impaired Tissue (Skin) Integrity Care Plan writing help online with 100% money guarantee.
Top Writing Services & Popularity
Custom Nursing Research Papers
80%
Custom Nursing Essay Papers
95%
Custom Nursing Dissertation Papers
80%
Custom Nursing Thesis Papers
90%
Custom Nursing Research Proposals
70%
Custom Nursing Assignments
93%
Custom Nursing Coursework
95%