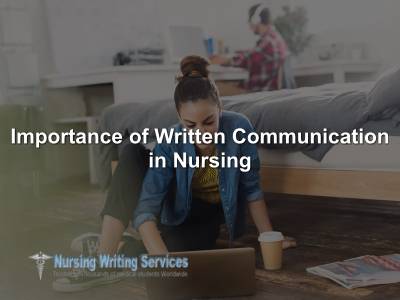 Written communication is the use of written words to express ideas. It is suitable for a practice like nursing because it makes future referencing convenient and is appropriate for sharing information or instructions using formats like tables and diagrams.

Written communication skills are developed while undertaking nursing education - before attaining licensure to become a registered nurse. This takes place by completing academic nursing writing assignments, which come in different forms and have different objectives. The most common nursing writing services orders we get at Nursingwritingservices.com are for research papers, essays, case studies and term papers.

One of the skills instilled by carrying out academic writing assignments is that of doing research. This skill is important in the professional setting as well. Research skills equips a nurse to successfully maneuver through postgraduate education in order to advance their career. They will, after all, be required to undertake increasingly complex research work. Research is a time consuming and complicated affair that can only be successfully undertaken by individuals skilled to carry it out.

Written communication develops research skills which aid a nurse in making decisions in his or her practice. Research encourages evidence-based approach to problem solving. This enables a nurse to remain objective and as such make the best decision in administering medication or guiding a patient on treatment plans.
HOW IT WORKS
1. You place an order and provide any necessary instructions
2. We assign your work to a writer with a relevant degrees
3. The assigned writer starts working on your paper right away
4. We send the completed paper to your email and accounts
Written Communication Improves Critical Thinking Skills
Written Communication is different from other forms of communication in that it allows a nurse time to think through his or her response or input. This characteristic encourages an individual to organize their thoughts and evaluate relevance of their response. This habit develops critical thinking skills as reflection over issues becomes second nature. The process occurs through the documentation a nurse is obligated to make or through carrying out academic writing assignments.

Critical thinking skills in turn improve the decision-making skills of a nurse and drives them more towards creative and autonomous duties. It is also important that a nurse makes good decisions because their choices affect the health of patients looking to recover from illnesses or injuries.

It goes without saying that writing is useful for nurses to share their ideas with the world. This is not just limited to the routine recording they make as part of their job description. Nurses are trained to address clinical issues and other matters touching on the social, political and economic issues influencing provision of healthcare services. Writing is the perfect channel of communication to share views on such complex ideas as it provides for permanency and eliminates change of meaning when the idea is shared.

Academic papers like proposals, case studies and concept analyses are options a nurse can consider in their quest to make a greater contribution to their field. These papers can only be successfully written by individuals who excel in written communication by way of properly structuring their work, making great arguments for their views and use of appropriate language for the intended audience.
OUR EXCLUSIVE FEATURES
Are you wondering who will write your Nursing Paper? Look no further. With the help of our experienced writers and exclusive features, NursingWritingServices.com is an Online Nursing Paper writing company that takes up responsibility to give you a quality and original Nursing papers. Some of the exclusive features are as shown below:
Integrated plagiarism checker
Guaranteed 100% original Nursing PICO Projects every day
Live chat with your writer
Guide writers on your expectations and suggestions while they work
Choose your favorite writer
Select from hundreds of writers and pick your favorite one for your Nursing PICO Projects
Free preview of your order
Get a free preview of your Nursing PICO Projects and request for any revisions
Written Communication is the Means of Documentation in Nursing
It would not be convenient to use any other channel of communication to carry out the daily documentation that nurses do. Can you imagine trying to recall physical examination results of a patient if it was only carried out using verbal communication? No hospital would operate optimally under such circumstances. Therefore, written communication contributes to effective and efficient operations of healthcare service provision institutions.

Writing undertaken by nurses makes it easy to coordinate activities like switching of shifts. Nurses are able to switch shifts while treatment plans are implemented unhindered because writing provides a reference point that allows smooth continuity.

The documentation also serves the purpose of making it possible to refer to previous treatment plans to either pinpoint mistakes or serve as guides on how novel conditions and injuries will be treated. Written communication also makes it possible for hospitals and similar institutions to share knowledge on best practices thereby improving the practice of nursing as a whole.

What is more, documentation through writing makes audit of nursing activities much simpler. Written communication can be presented in a court of law to confirm or defend the position of a hospital or nurse. This makes it necessary to standardize formats of written communication in a hospital and put in place ways of ensuring records are safely stored for future reference.
Patients Appreciate Clear Instructions
The practice of nursing has oriented towards a more collaborative approach with patients in order to realize treatment plan outcomes. An important aspect of this is ensuring that patients have adequate information to manage aspects of the treatment plan themselves or with help from their families. Written communication stands out as a reliable tool to ensure actualization of this goal. It guarantees that patients always have a consistent reference point on instruction of administering medication or carrying out any other set out activity to aid their recovery.

This kind of structure goes some way in helping patients stay disciplined to the road map of their treatment plan. You can imagine ensuring patients of chronic conditions adhering to healthy living practices or self-administering education as those diagnosed with diabetes do. Written communication provides them with reliable information and gives them the dignity of independence in some way.
Pitfalls to Avoid with Written Communication
While written communication is a formidable tool in the practice of nursing, it can only be helpful if put to use in the correct manner. It is a must for nurses to adopt good practices of written communication
Recent Orders By Our Writers
Completed By
Writer #8290
Task 2: RCA(root Cause Analysis) And FMEA(Failure Modes And Effects Analysis)
Completed By
Writer #9095
Theory And Nursing Science
Completed By
Writer #8873
Veterans Health: U.S. Military Culture And History
Completed By
Writer #5870
discuss a cultural variant as is relates to women's health.
Completed By
Writer #8457
Risk Reduction: Fall risk reduction in healthcare facilities
APA
I had no problems with this particular writer. I think this was t...
Completed By
Writer #2781
respiratory discussion board
Completed By
Writer #8279
End-of-Life Decisions
APA
received material very quickly! Thank you
Completed By
Writer #8290
Completed By
Writer #6534
Completed By
Writer #3495
What Clients Say
My name is Lucia and I am a foreign student. Coming to a new country and a new university with a different curriculum from the one I had in my previous school I felt overwhelmed. I was lucky enough to get professional assignment help from Nursingwritingservices.com and my academic life has been easy.
Lucia
Nursing Student
USA
There is nothing better than delegating your picot assignments to a professional for a fee. You get exactly what you pay for. Nursingwritingservices.com has been my assignment service writers for two years now and I can never be more grateful.
David.
Medical Student
NY
Getting enough time for working on nursing practical experiments and writing a daily report for the rounds made to check on patients' progress is hard. I found Nursingwritingservices.com online and they have been handling my theory assignments excellently.
Sandra.
Nursing Student
Canada