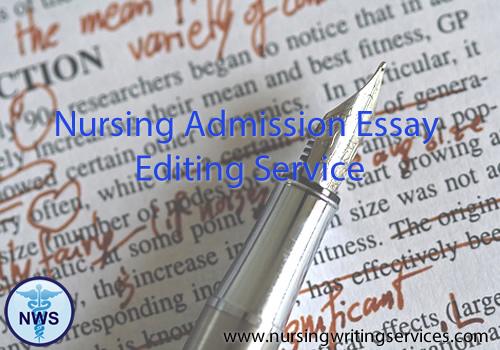 Nursing Admission Essay Editing Service
A nursing admission essay is a short piece to submit together with an application showing the reasons why an applicant has interest to pursue nursing at that school and the personality that makes him or her suitable for admission.
You may find that your admissions essay does not portray you in the best way and the time to write another is limited, or your mind is blank on how to improve it. Nursingwritingservices.com offers solutions for everything to do with nursing writing and editing. Nursing and medical fields are our specialty thus we match customers with the best editors.
Why You Need Our Nursing Admission Essay Editing Service
1. Comprehensive editing
You need to impress the selection committee by availing a finely crafted admission essay that does not have language and factual errors. Nursingwritingservices.com ensures that you meet the expectations of the admissions team by careful proofreading of the admission essay to identify and fix all errors. We improve all these areas:
Grammar
Punctuation
Spelling
Style
Sentence structure
Coherence and clarity
We also countercheck your admission essay against the admission requirements by the university to determine and amend if your ideas make an impact on the readers. We do everything to meet the requirements of the university including formatting and referencing any text that requires citation to acknowledge the source.
2. Editing help by experts
We have an expert team of editors who have vast experience as writers, proofreaders, and editors of nursing documents. They will improve the readability by removing errors and also enhance the structure and everything else.
We change or improve the organization of your admission essay to make it form strong logical progressions essential to show that you can handle the high-level coursework.  Nursingwritingservices.com offers comprehensive editing service. We even reach other sections of your application to ensure that the admission essay does not rehash the information. Repetition can break your admission as it shows lack of creativity and inability to communicate.
3. Fast turnaround
Our editing help is timely as we understand time is valuable in applying to join a nursing school. We respond swiftly to customer requests and identify the most suitable editor for the task fast as possible after receiving confirmation of payment.
Who Edits Your Nursing Admission Essay?
Our editors are experts in various disciplines of nursing. We prefer assigning editing to an editor with an educational background in the area of nursing that you intend to specialize in the nursing program. A field expert can edit better due to advanced knowledge of the terminology and understanding of what it entails to thrive in the area. The editor will also determine if your admission essay connects your qualifications and life experiences to the responsibilities of nurses in this specialty. Our editors have been at their work for long editing nursing admission essays for various nursing schools thus understand the requirements. Our editors are native English speakers with mastery of how to use appropriate English for formal applications.
---
---
Why Choose Our Nursing Admission Essay Editing Service
Editing help for all academic levels
We have expert editors with advanced degrees in addition to their background in nursing. Our editors have a minimum of Masters of Science in Nursing (MSN), but we have a group with Doctorate degrees. Their training allows us to match orders with editors who know the right way to write a nursing admission essay for the lowest to highest academic level. Some of the editors also serve as members of faculty and admission committee at various universities this knows about admission requirements. They can quickly determine what part requires amendment and the best way to improve and match admission needs.
Round the clock editing service
We know that applicants may require editing help even at late hours on short notice. You can make an order at any time by visiting our website and clicking on the order page. You will fill your order instruction and get an instant quote. Once you make payment by credit card, we shall receive a notification, and the editors will notice the new order. One of the experts in your field will take up the editing role and complete fast as possible within your deadline. Our customer support team also works beyond the business hour attending to customer inquiries via live chat, email or phone.
Affordable editing service
Our prices are affordable as we set charges within the market average to enable us to hire the best editors as well as offer cheaper service. Additionally, we offer free revisions if the edited essay requires further corrections after we deliver it.
---
What Our Customers Say About Our Nursing Admission Essay Editing Service
I thank you for providing me with native English speaker who corrected some spelling and grammar errors that I could not identify.
---
I recommend nursingeditingservices.com for nursing admission essay editing and other documents. Your editors are fast and thoroughly comb the text for mistakes better the spellcheckers.
---
I am happy for assigning me an editor who was thorough but still retained my writing style. The admission essay in excellent yet relates to other section of application.