Write My Nursing Admission Essay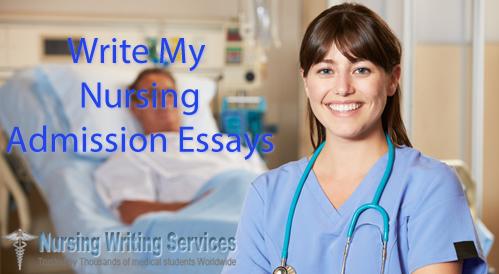 A nursing admission essay is a form of a written statement that applicants to nursing school prepare as part of a process to demonstrate suitability for joining an institution. An admission essay also known as an application essay or personal statement shows other reasons in addition to academic grades that qualify someone for admission. Nursing Writing Services helps applicants to write my nursing admission essay superb documents to convince admissions staff that the applicant deserves a place in their institution.
---
Why You should trust us to write my nursing admission essay
Custom writing help
We know that most bright students do not get admission because of writing their admission essay in the wrong way. Our solution is to use expert writers from the nursing profession who understand the admission requirements at various institutions. The writers with the help of editors look at multiple parameters that a nursing school, emphasizes and writing a custom application essay to meet those requirements. We match the instructions to show your ability in adhering to guidelines. Our writing approach shows reasons that make you deserve a chance for nursing training without repeating what is in your resume and transcripts. The goal is to highlight that particular reason that will separate you from the applicants with similar or better grades.
Appropriate formatting
Colleges and nurses require admission essays in a specific or make it open-ended. Our way of writing is to follow the instructions and answer the question in the piece by providing a well-discussed answer in the required number of words. We will even cite your sources appropriately to support your arguments and show mastery of the subject.
The writing quality is still, high for open-ended admission essay. The writer takes advantage of the leeway to describe the reason for your interest in a broad way but formally to portray you as a well-organized student.
---
Who Will Write My Nursing Admission Essay?
The writer we assign your order is a graduate with an advanced degree in the specialty of nursing you want to join. Getting a specialist in the field is essential as we deliver admission essays that present the most important points to support the discussion on the provided topic. You writer will have the correct facts and information to make intelligent arguments.
---
---
If your nursing admission essay does not have a topic, your writer will show the personality traits that demonstrate your commitment to improving patient care after getting the training and the specific reasons why that particular school is the best place for your training. A good thing about having a specialist writer is that the person knows what nurses in your chosen specialty do as part of their duties thus your document will not portray any ignorance.

.
---
Why Choose Our Write My Nursing Admission Essay Services
Original writing help
We are a legitimate writing company that does not stock written admission essays or generate some from templates and passes them as original work. Our writing help involves gathering your personal information and interest in nursing to write an original personal statement that shows your unique character. It is the reason we have many satisfied customers since we deliver unique documents that grab the attention of the readers. Additionally, our quality assurance team performs a plagiarism scan to ensure that writers use your personal information to generate original nursing application essay.
Commitment to quality
Nursingwritingservices.com is the top nursing admission essay writer because of providing quality writing help. We are keen to maintain the position by satisfying our customers. Our writing services are affordable, and you get unlimited access to our customer support for matters requiring our attention. Contact us through live chat, email or phone call and you will get answers to questions within a short moment. Our order process is user-friendly, and you order for a nursing admission essay day or night.
Our commitment to offering highest quality help is the reason we offer free unlimited revisions to any customer who has a legitimate complaint about something in a complete admission essay that does not meet the requirement.
---
What Our Clients Say
A friend informed me about your writing help, and the quality of my nursing admission essay impresses me. I am now ready to submit my application with the confidence of admission.
---
I had one day to write my nursing admission essay on a complex topic. Thank you for coming to my help by providing a writer to complete it before the day.
---
I am not a native English speaker, but I thank you for helping me to break even within other applicants. You native English writer helped me to get admission to my favorite university.