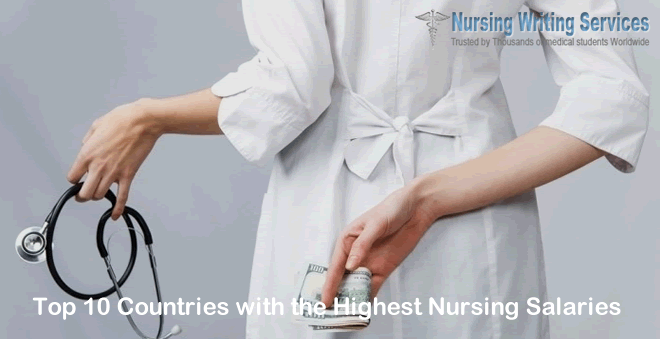 Top 10 Countries with the Highest Nursing Salaries
Nursing is one of the most sought-after professions in healthcare at the moment. While some students may be attracted by the desire to save lives by taking care of patients, it would be remiss of us not to mention the fact that the huge perks that nursing jobs attract in some countries are a significant factor. The question that one asks before becoming a nurse is how much he or she is likely to earn. To help you break this down, we have sampled some of the nurses' salaries in ten countries, which we think have the best pay around the world. Nevertheless, we expect the list not to be exclusive, as nurses in many countries have recently staged protests seeking better remuneration. Therefore, you do not have to worry if the country you think has the best pay rates does not feature here:
Luxembourg
The first in the list is a surprise; Luxembourg, a small Western Europe country, and a renowned tax haven. The country boasts a large economy that can support high salaries, and nurses earn an average salary of $60,000 in the first eight years of the career. Experienced registered nurses get a salary as high as $125,000. Due to good pay and working conditions, it is hard to find a nursing job in this tiny country for new nurses who join the profession and expect to earn a decent wage. Thus, most of them seek
United States
The average salary for a registered nurse here is $67, 490 and above average income in the US. Nurses at higher levels of their career earnings over $94,000 annually. California State pays its nurses the highest salary. The lowest income for nurses in the country is around $45,000.
Norway
Norway is an oil-rich nation with one of the highest living standards in the world. Nurses enjoy a good life as the average salary for an RN is $50,000 but may increase up to $100,000 annually for those with masters degrees or the highly experienced nurses.
Canada
Canada has a well-funded universal health care system, and nurses enjoy excellent remuneration. The salary range is between $48,000 and $55,000, which is the world highest. Experienced nurses earn $65000 upwards.
Australia
Average entry-level nursing salary in Australia starts at $28 per hour. The annual wage rises to as high as $60,000 for nurses with experience of over ten years and working in the top hospitals.
Denmark
Denmark is a country that experiences sub-zero temperatures but has an exciting career in the healthcare. Demand for nurses in Denmark is high, and employers hold onto their care providers by compensating them well. Nursing salary ranges between $38,000 and $50,000. Cost of living is high because the country has an incredible social welfare system and taxation of 30%.
United Kingdom
Pay for nurses working in the UK earns a salary that enables them to live a comfortable life especially for those at higher levels. Nurses at an entry-level position start to make around 30,000 USD per year. This amount increases to as high as $43,000 annually when someone starts obtaining experience. To deserve this amount, you must be a nurse with a degree and passed an assessment by the nursing and midwifery council.
Chile
Chile is a South American country taking up most of the eastern coast on the continent. The quality of life in Chile is higher compared to the other South American countries. Nursing is Chile is one of the most lucrative careers. Entry-level nurses earn an average salary of $28,000 a figure that increases up to $47,000 with time. An experienced Registered Nurse can get a salary of up to $62,000. It is an impressive amount considering that the median annual wage in Santiago the country's capital city is only $10,000 per annum.
New Zealand
New Zealand is an Island nation in the Pacific Ocean. It is a neighbor to Australia which is another country that pays nurses well. The island has a high quality of life as reflected in the average salary that floats to around $35,000 a year for the lucrative private sector. Nursing salary in New Zealand is somewhat competitive. It starts at $32,000 and goes up to $47,000 with experience.
Belgium
Belgium is a small Western European famous because its Brussels the country's capital hosts European Union headquarters. Although it numbers ten on the list of countries paying the highest salaries to nurses, it still pays a decent wage. Average pay for new nurses is $27,000 and may reach up to $50,500 with experience. If you are looking for a high nursing salary, the ten countries are the best places to find a job.